Shakespeare's Globe
2007 Season
Renaissance + Revolution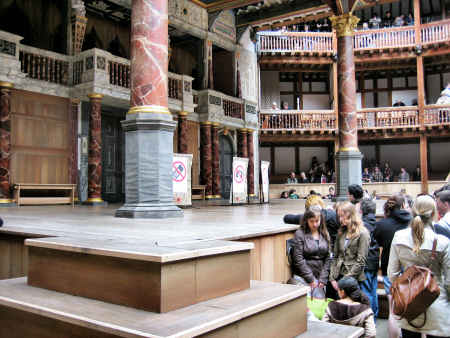 Introduction
Dominic Dromgoole's second season as Artistic Director of Shakespeare's Globe is called 'Renaissance + Revolution'. He says that the three Shakespeare plays are explorations of Shakespeare's own moment, the late Renaissance, whilst the new plays celebrate tipping points in history.
Othello is the only great Shakespeare tragedy not seen at the Globe. I was really looking forward to this production and I wasn't disappointed. Eamonn Walker could easily charm the lovely young Desdemona of Zoe Tapper, and Tim McInnerny's Iago is indeed a commanding presence.
The Merchant of Venice was performed here in 1998, but good casting is also important to this play and I looked forward eagerly to John McEnery's Shylock. Over the years at the Globe he has played Jaques (1998), Gaunt (2003), Friar Lawrence (2004) and in many other productions. He was outstanding in each of them. Also in 2005 he took over as Old Pericles when Corin Redgrave fell ill. I was not disappointed.
Love's Labour's Lost is another newcomer to the Globe stage. It can be very funny, but many productions fail miserably. I'm an optimist!
The Revolution part of the season is provided by the new plays on offer. Actor/playwright Jack Shepherd has written a play about the struggles of a young girl in Victorian England called Holding Fire! We, The People is a piece based upon speeches, letters and official documents from the time that Benjamin Franklin, George Washington, James Madison and others met to forge the US Constitution. Early in the season last year's hit production of In Extremis by Howard Brenton, the story of Abelard and Heloise, returns for a two week run.
The season's productions are:-
Othello
The Globe's eleventh season opens with an eagerly awaited production of the tale of the Moor of Venice, the first time the tragedy has been performed at Shakepeare's Globe. British born Eamonn Walker who is best known for the US TV series OZ, plays the Moor. I only remember seeing him in a modernised version of Othello on TV a few years ago. I do recognise the actor playing Iago, Tim McInnerny, who played Lord Percy and Captain Darling in Rowan Atkinson's Blackadder TV series. More recently he has played more serious TV and stage roles and I was not surprised to find he has a commanding stage presence when I saw a preview of the production on the cool, showery afternoon of 16th May.
I think that I've only seen two stage productions of Othello before this, though the later of those was the Trevor Nunn production with Willard White as the Moor and Ian McKellan as a truly great Iago, at the intimate Young Vic theatre. My earliest experience of the play was the movie version of the National Theatre production in the 60's starring Laurence Olivier, and I listened to the LP record version of that production many, many times, and can still hear Olivier's desperately regretful 'O, Iago, the pity of it, Iago!' among many other lines.
So I do find it difficult to judge individual performances, but I believed and I cared, which is what a theatrical experience is about. I think someone tried booing Iago at one stage in the afternoon, and that may have worked - he is a true stage villain, and like Shakespeare's evil personification of Richard III, Iago shares with the playgoers his evil plans as they evolve. McInnerny could have enjoyed his devilry a little more. Walker is a fine actor. I was surprised to learn that he is 47; he seems younger to me. He has the necessary charm and nobility to woo Desdemona, but also the passionate wrath to brutally murder her on their marriage bed drawn into the centre of the stage for the final scene. Zoe Tapper's lovely, young but strong minded Desdemona had enough life force to fight for a long time. The director Wilson Milam trained with Chicago's Steppenwolf Company. He uses the Globe space to its full, with steps to the stage to allow entrances from the yard as well as from the tiring house.
The Globe goes on exciting its playgoers at the start of another season, and long may that continue.
The Merchant of Venice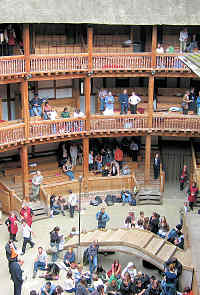 A story of love and hate, trust and intolerance, male friendship, a strong female lead and a human, rather than a cardboard villain whose fate we must care about at the end. A comedy that leaves you with a nagging discomfort. I'm spoiled, as my first London stage Shylock was Laurence Olivier; many would say he wasn't the most subtle of actors, but it was a magical performance in a first class National Theatre production. I can still hear his blood curdling offstage scream after his sentence. Gaynor bought me the VHS tape of the TV version of that Jonathon Miller production this Christmas. Some years later I walked out of a touring production overlaid with Nazi paraphernalia and goose-stepping; the subtlety of a sledgehammer.
This production by Rebecca Gatward is billed as "...employing Renaissance staging, costume and music", but the costumes worn by the Venetian merchants are designed to suggest 20th Century businessmen with pinstriped cloaks and jaunty little trilbies. The styling by designer Liz Cooke never feels anachronistic but conveys the importance of trade to Venetian life. The caskets at Belmont stand on Plexiglass columns, but again do not feel out of place.
This is a young cast, and Philip Cumbus' Bassanio is boisterous and athletic. Mark Rice-Oxley's Gratiano is more so, but they accurately reflect the exuberance and self-confidence of young people, who grow in responsibility as the play goes on. I always think of Antonio, the Merchant as elderly, but here played by Dale Rapley he is fortyish and very good looking. When Bassanio leaps across the stage to give Antonio a lingering kiss full on the lips, the audience gasps, but it is no great surprise or shock.
I saw a preview performance in which Michelle Duncan played Portia. She was delightful but I often found it difficult to hear her. She and Bassanio were a strong couple and the casket scenes and the comedy worked very well. Bassanio's full-on kiss with Portia lasted longer than Antonio's and delighted the young female dominated audience. However the 12th June press night was postponed because of Miss Duncan's "sudden indisposition" and Kirsty Beckerman who played Nerissa has taken over until a permanent replacement can be found. The new press night is June 28th.
Finally we come to Shylock who is played by the excellent John McEnery. He is the outsider; no pinstripes for him, just khaki gabardine. You can't like this character but he is not evil; he has been treated abominably by the Venetians we come to like, and he takes his chance for revenge. The Globe playgoers gasp again when they hear that Shylock is forced to become a Christian on top of the other penalties meted out to him by the court of Venice.
This was a very good afternoon at the Globe for me. I haven't mentioned the contemporary music by Adrian Lee, much sung on stage by Vivien Ellis which was so good.
As a postscript, a Globe moment: Philip Bird was very good as the Duke of Venice, but he also played the Prince of Aragon, a Spanish suitor for Portia who like the rest has to choose from the gold, silver and lead caskets for her hand. As he was about to open his selected casket a helicopter flew over the Globe drowning his words. Still in his Spanish character he stormed to the front of the stage shaking his fists at the disrupting machine and shouted "Santa Maria!". As the plane disappeared into the distance he 'fast rewound' his recent performance and unlocked the casket.
Love's Labour's Lost
Not one of the most popular plays. Boisterous comedy with punning dialogue, either works or doesn't. The Globe artistic director Dominic Dromgoole directed this production. And no, I didn't see a film of Olivier in this one! And Branagh's film with 1940's music was terrible.
This like the other Shakespeare productions this year will employed Jacobean staging, costume and music.
Holding Fire
To quote the season programme: 'Ranging from East End squalor to Nottingham mills, Jack Shepherd tells a picaresque tale of tavern assemblies and prize fights, gin-palace communists and bullying do-gooders, industrialists and whores, bringing to the Globe for the first time the sordid, violent times of early Victorian England.'
We, The People
To again quote the programme: 'We, The People forges a vivid drama out of the surviving speeches, letters and official documents from that historic moment. Benjamin Franklin, James Madison, George Washington, and many of the other founding fathers, came together at a moment of crisis and created the constitution which the United States still lives within today. We, The People is a re-creation of what they did.'
In Extremis
L

ast year's production of this new play by Howard Brenton returns to the Globe for two weeks from 15th May.The full title is In Extremis: The Story of Abelard and Heloise. John Dove directs and Michael Taylor designs the production. I didn't see the play but the reviews were very good.
Links
Internal
Original Globe

of how the original Globe came to be built
- a plan and what the Globe may have looked like
- what was discovered in 1989
- The Globe's great rival playhouse, its star Edward Alleyn and owner Philip Henslowe

New Globe

of how the new Shakespeare's Globe came to be built on London's Bankside in the 1990's.
Mike's Views and Reviews of productions in previous years at Shakespeare's Globe.

Globe Main

Recommended Books

My list of recommended books about the Globe, Rose and other playhouses of the time may be found in the section of the Well Furlong . If you so wish, you may go on to buy many of the volumes in our Book Shop directly from Amazon.com or Amazon.co.uk.
|||||

Updated 13th June 2007