We don't know exactly when, but sometime in the late 1580's Shakespeare took lodgings in London where he became an actor.
The first unmistakable reference to him in London is in Robert Greene's Groatsworth of Wit of 1592. Greene was a playwright dying in poverty and bitterness when he wrote this pamphlet which was published after his death. In it he refers to
"an upstart crow, beautified "Beautified is a vile phrase" Hamlet Act II Sc II with our feathers, that with his tiger's heart wrapped in a player's hide supposes he is as well able to bombast out a blank verse as the best of you; and being an absolute Johannes Factotum, is in his own conceit the only Shake-scene in a country."
In Shakespeare's Henry VI part 3 is the line "O tiger's heart wrapp'd in a woman's hide!" Greene, who had a Masters degree, appears to be attacking this upstart actor who was presuming to write plays, even though he hadn't been to university. So Shakespeare was an actor who had already had at least one play performed.
In 1593 the theatres in London were all closed by the authorities because of the plague, and William wrote the narrative poem Venus and Adonis. This became very popular, being reprinted sixteen times before 1640, and made Shakespeare famous. A year later his poem Rape of Lucrece was published. This was not so successful in the bookshops, but eight reprintings by 1640 didn't make it a flop!
In 1594, when the plague had abated, the acting company called the Lord Chamberlain's Men were formed. This was the company, later to become the King's Men for which Shakespeare would act and write for the rest of his career. He is recorded as one of the players paid for giving two performances for Queen Elizabeth I at Greenwich in 1595.
The Chamberlain's Men were 'managed' by James Burbage who had built two playhouses north of the city in Shoreditch called The Curtain and The Theatre. Burbage had two sons, Cuthbert and Richard. Cuthbert wasn't an actor but after his father's death became the company's business manager. Richard was to become the greatest actor of the age, playing all Shakespeare's leading roles as well as many other starring parts.
In the August of 1596 William and Anne's only son Hamnet died at only eleven and a half years old. This must have been devastating to them both. Is there a link with another recorded event of that year? William seems to be the initiator of the application for a coat of arms to be granted to John his father, marking him and his descendants as gentlemen rather than yeomen. An application by John twenty years earlier had come to nothing, but now it was successful.
1597 was a year when we can see William becoming richer, but no doubt fearing for the future. Early in the year James Burbage died, and his sons took over management of the two Shoreditch playhouses. Worryingly the lease on The Theatre expired in April and no new lease could be agreed with the landlord. The players moved into The Curtain next door, but one can guess that this was very much second best. The company's sponsor, Lord Hunsdon had died a year earlier, but after a delay, his son was appointed as Lord Chamberlain in his place and he appointed the Shakespeare/Burbage company as his players.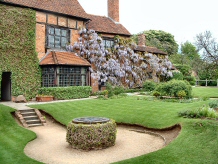 William can't have been unduly worried by all this change though, because in that same year he bought the second biggest house in Stratford, New Place. The house was demolished in the nineteenth century, but here you can see the site with the original well. In 2010/2011 the site was being excavated by archaeologists.