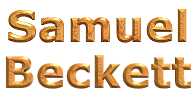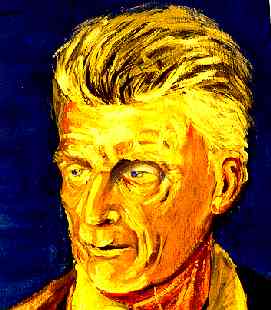 Samuel Beckett by G.L.Duffy
Introduction
Samuel Beckett (1906 - 1989) is probably the most influential playwright of the 20th century. An Irish Protestant born south of Dublin, he spent much of his life in France. He wrote most of his major work in the French language and translated them himself into English. He is best known for his plays
and
.
He is probably the most famous of the writers associated with the movement known as Theatre of the Absurd. He has been hugely influential on playwrights of the latter half of the 20th Century such as , and
Beckett wrote novels, poetry and criticism as well as plays. There is a list of his principal dramatic work in the of the Well Furlong .
See our page of for a brief account of his life and works in chronological order.
at Reading University holds the most extensive collection of Samuel Beckett materials in the world. The Beckett Archive, is open to the public and to academic researchers.
New
All That Fall - First Stage Production Autumn 2012
Sir Trevor Nunn will produce the first staged production of All That Fall written for radio in 1957 in London West End's smallest theatre the 70 seat Jermyn Street Theatre. Dame Eileen Atkins and Sir Michael Gambon will star and the play will run from 9th October to 3rd November 2012.
Happy Days - Enniskillen International Beckett Festival is the first annual festival in the world dedicated to Samuel Beckett. Enniskillen is in Fermanagh, Northern Ireland. London 2012 Festival is co-commissioning a new production of Krapp's Last Tape, directed and performed by Robert Wilson. The festival will run from 23rd to 27th August 2012.
Recent Productions
Endgame
The production at London's Albery Theatre by Matthew Warchus starred 'The Great Gambon' as Hamm and the animated comedian Lee Evans as Clov. Gaynor and I saw a very early preview on 27th February 2004. Sir Michael Gambon never lets you down, and this is a powerful commanding performance, but Lee Evans, a comic performer I have only seen a couple of times on TV, and not particularly liked, is a revelation. I expected him to totally overdo the mannerisms of the man who cannot lie down and who serves the blind man who cannot stand. For many minutes after the curtain rises he painfully shuffles about the stage with a step ladder opening the curtains of the windows set high up in the back wall. Throughout the play he is bullied by Hamm, and though frustrated tries to please.

As always Gambon convinces you that his part was written for him alone. Hamm's parents, Nell played by Liz Smith, a very talented TV stalwart, and Nagg, Geoffrey Hutchings, another familiar TV performer, have lost their legs in the never spelt out catastrophe which is bringing the world to an end. They live in ash cans, and pop up to be fed from time to time. It is a bleak work which is not easy to watch, but you won't see a finer production than this.
Calico
Not a Beckett work but a new play by Michael Hastings in which the character Samuel Beckett appears as the young secretary to James Joyce in Paris in the 1920's. The play had been given universally hostile reviews when it opened at the Duke of York's Theatre on 3rd March 2004. Gaynor and I were nearly put off, but we were already booked for the following Saturday matinee and do not regret the visit.
Michael Hastings' most famous play is Tom and Viv which told the story of T S Eliot's marriage to a mentally disturbed woman who may have been hugely influential to his work. It was later filmed. On a similar theme Calico concentrates on Joyce's mentally disturbed daughter Lucia, who told Beckett at their first meeting that she could see their future, and that they would be married. As she becomes more disturbed, Beckett, played by Daniel Weyman, as a gawky, taciturn but kind young university tutor, plays along with her fantasy and even introduces a fantasy child into the wholly spoken relationship.
The characters and their relationships are all gripping, though Hastings does not know how to bring the play to an end. So life is not theatrical! But this is a play and it does stumble to an unsatisfying, clumsy end.
So why did we enjoy it so much? A combination of strong believable characters played by very good actors. Dermot Crowley played Joyce perfectly as the almost blind, self-deluding genius that he was. He doesn't want to know that his beloved daughter walks the streets of Paris each night looking for men. Imelda Staunton, is magnificent as Joyce's common law wife Nora Barnacle, trying to keep her family together.
Until I read about this play I had never heard of a young actress called Romola Garai. She has worked in TV and the movies, and was very soon to be seen starring in Havana Nights: Dirty Dancing 2. Here she plays Lucia, Joyce's (sometimes) demented daughter. She is the central character of this play and she holds the attention and the sympathy of the audience throughout. A funny, convincing and moving performance. A twenty-one year old star is born.
Happy Days
On 15th November 2003 Gaynor and I went to a preview of Beckett's Happy Days at the Arts Theatre in London's West End. Sir Peter Hall directed the play in the theatre in which he directed the first British production of Beckett's Waiting for Godot nearly four decades ago.
I have wept in the theatre only twice in my life. The first time was during Claire Bloom's portrayal of Blanche Du Bois in A Streetcar Named Desire in the 70's. The second was at the end of this production.
The extreme emotional reaction was aroused by a truly wonderful performance by Felicity Kendal playing Winnie, the woman who is buried up to her waist for the first act of Happy Days, and up to her neck in the second half. It is the story of a woman making the best of a terrible life. Unusually in this production, the design by Lucy Hall puts Winnie at the centre of a spiral of sun scorched grass set almost vertically rather than in a mound of earth. The posters and programme show a glamorous Kendal far removed from the tousle-haired Winnie we see on stage, speaking in a light Irish accent. At times it seems she is speaking verse, the rhythms of her virtual monologue are so modulated. Anybody in a tedious job or at home alone trying to get through the day will recognise the rituals of breaking up the day with predictable, enjoyable little events over which they have control. When will she brush her hair? Not too early in the day, because then she will have nothing to look forward to later.
I saw Peter Hall's production at the National Theatre starring Peggy Ashcroft twice in the seventies when I was in my twenties and loved it then. Now I am older I understand what it is about and found it much less strange, much funnier, and far, far sadder. Like most men I love Felicity Kendal, but I have never seen her perform better, and I should find it difficult to cite a better performance by any actress, though within a week we saw Helen Mirren and Eve Best in Eugene O'Neill's Mourning Becomes Electra at the National, and they both deserve to be in the same class. I feel privileged to have seen such great performances in such great plays. Boy, do I love theatre!
Links
Internal
A brief biography of Samuel Beckett
A list of Beckett's dramatic works many of which you may buy from Amazon.com or Amazon.co.uk
External
The Reading University (Berkshire, UK) houses the world's biggest collection of Samuel Beckett resources. The include over 600 manuscripts, letters, books, art works, stage files and news cuttings relating to the playwright.