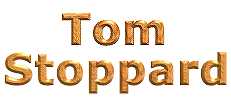 Introduction
Sir Tom Stoppard OM is among the first rank of living playwrights. Born in 1937 he shows no sign of decline, producing a new play for the theatre every few years, and a trickle of top quality screenplays for cinema and television. From to and The Coast of Utopia he has dazzled and entertained theatre audiences across the world. We saw his latest, in August 2006 at the Duke of York's Theatre in London's West End. One critic says that it is his best play since , and the rest just love it.

In 1998 cinema audiences enjoyed the fruits of his talent in the movie which won for him and his collaborator Marc Norman the Oscar for best screenplay. In October 2011 Variety reported that Stoppard was talking to Disney about a stage version of the movie to be staged in London.

Jump to our page for a year by year account of Stoppard's life and works including all of his screenplays, some of which are uncredited.

In November 2004 Gaynor and I attended a short event at the National Theatre, one of a series to mark 75 years of Faber & Faber Drama books. This particular interview with Stoppard concentrated on his play which opened at the Aldwych Theatre in London in 1974. I was privileged to see a preview of that production starring John Wood and John Hurt, and the following year bought the Faber paperback edition of the script as soon as it was published. It was this copy that I took to the book signing after the interview and I asked Sir Tom if he didn't mind signing such an old copy rather than a new edition on sale nearby. He said that he didn't mind as he had a copy of the same edition in his bag. When I told Gaynor's brother Paul of the conversation, he asked whether I'd asked Sir Tom if he wanted me to sign his copy! In 2011 We saw a new production at the Birmingham Repertory Theatre and loved it again.

In 2003 the National Theatre revived Stoppard's Jumpers starring Simon Russell Beale as George and Essie Davis as Dottie. Gaynor and I saw an early preview and a later performance when the production had overcome the technical problems posed by several sets moving on a revolving stage. Russell Beale had never seen Michael Hordern play the part, as we had, and made it his own. I keep saying "Watch this man Russell Beale"; he is a star. The production moved to the West End and transferred briefly to Broadway.

In 2000 Sir Tom Stoppard was was made a member of the Order of Merit by HM Queen Elizabeth. Membership of the Order is a personal gift of the Queen, unlike knighthoods which are awarded on the advice of government ministers. The order is limited to twenty-four members at a time. Other members are Baroness Thatcher, and the artist . The sculptor Sir Anthony Caro, mathematician Sir Roger Penrose and Nobel laureate chemist Sir James Black were also made members of the Order at the same time.
Selection of Works
Stoppard's latest play opened at the Royal Court Theatre in 2006, as part of the theatre's 50th anniversary celebrations. His inclusion in the season led to controversy because Stoppard had never written a play for the Court before - his plays had always been commissioned by the Royal Shakespeare company or the National Theatre. Some playwrights withdrew their plays from the season in protest.
Nevertheless this play has been hailed as Stoppard's best in years and has transferred to the Duke of York's in the West End where it plays to packed houses.
The play follows Jan, a Czech intellectual through the years between the Prague Spring of 1968 and the Velvet Revolution of 1989, but in the context of his love of Rock music. An important influence in the Czech dissident movement was a rock group called The Plastic People of the Universe who were not revolutionary but just wanted to play the sort of music being played in the West. That was deemed to be subversive by the Communist regime. Jan, brilliantly played by Rufus Sewell, studies at Cambridge University with a died-in-the-wool British Communist Max played by Brian Cox. Max cannot be shaken from his belief in Communism despite the thousands of Russians killed by Stalin, and the Russian invasion of Czechoslovakia which crushed the Prague Spring when Dubček tried to humanise Communism.
This sounds dull, but Stoppard involves the audience by giving Max's wife Eleanor played by Sinead Cusack, and his daughter Esme central roles in the action. And of course with Rock 'n' Roll. At the end of each scene the lights go out, the sound of a rock song fills the auditorium, and facts about the song are projected on a screen in front of the stage, detailing the title, artist, all the members of the band and who played what instrument. The music finishes abruptly and the stage lights up to take us straight into the next scene. The music in each case is of the period current to the action of the play, from Bob Dylan's "I'll Be Your Baby Tonight" in 1968 to The Rolling Stones "You Got Me Rocking" of the early nineties. There are sub-plots including Max's daughter Esme and Syd Barrett, founder member of the Pink Floyd who lived (and recently died) in Cambridge.
I never lost interest in the play, but after the reviews, I have to admit to being slightly disappointed. I shall certainly buy the play text, because with all Stoppard's it is difficult to appreciate all the subtleties of argument in the theatre. I felt that we hadn't come to any conclusion at the end - maybe that's the point! What I'm very positive about is the three central performances. I saw Sewell as Osborne's Luther at the National and was very impressed, but here he is superb. I've always been an admirer of Brian Cox on TV and film, and here he plays his part so well that I cannot imagine anyone else playing it. Sinead Cusack plays Max's cancer stricken wife movingly and funnily in the first act, and in the last act plays his daughter equally beautifully.
Like all Stoppard's plays this will bear rereading and reviewing many times in the years to come.
His play played to packed houses for around six months at the Royal National Theatre. In early 1998 Gaynor and I managed to get seats perched at the highest level of the Lyttleton Theatre to enjoy this fascinating 'comedy-meditation on love, life and art'. It has everything that one expects from Stoppard; a densely packed text with references and allusions that one knows will only become clear when one has read the text, but carried along with strong characters and above all very funny dialogue. There are always memorable one-liners or extracts. Here for instance the 77 year old poet A E Housman, recently deceased and being rowed across the River Styx by Charon the boatman, whose character is based upon a typical cabbie ("I had that Dionysus in the back of my boat"), meets his younger self just arrived at Oxford University. On realising who he is talking to, the elder Housman says "Well this is an unexpected development. Where can we sit down before philosophy finds us out. I'm not as young as I was. Whereas you, of course, are."
Stoppard is still most widely known for his first successful play in which the minor characters from Shakespeare's Hamlet are trapped in a world over which they have no control. They are pawns in a game, the rules of which are not available to them. The characters who appear to be in control sweep onto the stage speaking Shakespeare's timeless verse, and sweep off again leaving our two heroes trying to work out what they are expected to do next. Only the company of players can talk on their level, and they are at once even more dependent on an audience, and cynical about how to survive in this 'world'. Stoppard's own movie version of the play, while faithful to the original did not work as a film. It was a great disappointment, but if you can't get to see the play, then do watch the video.
Trevor Nunn's production of the play appeared at London's Theatre Royal Haymarket in 2011 and we looked forward to seeing it again. I was in the minority in being a little disappointed, but it is still a dazzling piece.
Shakespeare In Love
In 1998 Stoppard's co-written screenplay for the movie was a huge success at cinemas across the world. A romantic comedy centring on the fictional love affair between young played by Joseph Fiennes and a young beauty played by Gwyneth Paltrow. It won a number of Oscars including that for best picture. The award for best screenplay went to Stoppard and Marc Norman, and Gwyneth Paltrow and Judi Dench won the Oscars for best actress and best supporting actress respectively. Gaynor and I went to see it in 1999 and loved it. Gaynor bought me the video for Christmas.
It is a touching love story, beautifully acted, but because it is (co)written by Stoppard the dialogue is constantly witty and intelligent. There are numerous intentional anachronisms; Will has a cup with the inscription "A Present from Stratford", and he has regular sessions with a practitioner in which he lies on a couch and explains his writing block in Freudian terms. Dame Judi Dench only appears very briefly as Queen Elizabeth I but is superb as always.
What is more when filming was completed Dame Judi asked what was happening to the inside of the playhouse set in which much of the action takes place. On being told that it would be burned she asked if she could have it. They agreed and she now has a splendid reproduction of an Elizabethan playhouse in her garden waiting for someone to provide a home for its rebuilding.
A home has indeed been found on the site of Collins Music Hall in Islington, London, which burned down in 1958. The Rose is to be sunk below ground level and covered in glass. It will be used as a theatre all year round, and funded by the sale of apartments above ground, and a restaurant and pub with a Shakespeare theme. I hope the plans come to fruition, and I look forward to visiting.
Links
Internal
A biography of Tom Stoppard including a list of his work
A list of Stoppard's works many of which you may buy from Amazon.com or Amazon.co.uk