New Globe Playhouse
2003 Season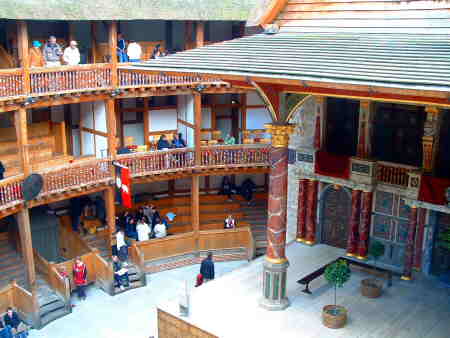 Introduction
The 7th season of plays at this splendid reconstruction of Shakespeare's own theatre, built on London's Bankside was entitled The Season Regime Change.
N.B. Due to the almost simultaneous crash of my PC and that of our (now previous!) web site host, this page and many others that had been updated in the last three years were lost. I have recreated what I can from memory and notes.
This season's productions were:-
Richard II
I first saw this production at historic Middle Temple Hall in the City of London legal district on Easter Saturday this year. After seeing it at the Globe in May, I enjoyed it yet again when it was broadcast from the Globe on BBC 4 digital TV later in the Summer.
Tim Carroll's all male 'original practices' production was led by Mark Rylance as the king. Yet again I have to say that he was the charismatic centre of the production - a light went out when he left the stage. He played the King as a foppish, giggling hypochondriac, holding a lace handkerchief before his nose while talking to the dying Gaunt (the excellent John McEnery). But later when he knew he was about to be deposed the same character could be very moving. When he asked for a "little, little grave" most of the audience laughed, but I was close to tears. We were all right. He was in the true sense pathetic.
Liam Brennan was a strong Bolingbroke. He and Rylance have worked well together for a few years here now. At the end Brennan stood alone centre stage holding a long pause until the whole cast crowded onto the stage led by Rylance for a rousing jig which brought well earned rapturous applause. A great start to the new season.
Richard III
To complement the now traditional all male company at the Globe, this year the second company was all female. In 2000 Vanessa Redgrave played a thoughtful, loving Prospero in The Tempest, but this season was a bold venture - probably the most popular history play and the Shrew.
Kathryn Hunter gave us a wonderful, villainous Richard, taunting the groundlings just this side of 'over the top'. Some critics didn't like the populist approach, but it works so well at the Globe without damaging the depth and tragedy elsewhere.
A male company including a few women characters is one thing - a female company mostly portraying men plus a few women is rather different. This company chose to dress in male costumes, in most cases to drop their voices to a slightly more manly tone, but to keep their own longer hairstyles. Early in the season when I saw the play the sword fights were a little stilted, but generally one all but forgot the unusual casting once the characters were established.
Finally I have to say that Like Mark Rylance, Kathryn Hunter is a charismatic actor whom I shall remember and look out for in future.
Dido Queen of Carthage
Probably Marlowe's earliest work, this was always going to be difficult to stage, and Master of Play Tim Carroll took the bull by the horns and produced a modern dress piece with a cast of six set on children's playground equipment. The play was probably only ever performed by a children's company at the Blackfriars playhouse in London, and in this production the adult players suggest that the Gods who manipulate the human characters are no more than children playing with toys. The central characters of Dido and Aeneas are played by the beautiful and touching Rakie Ayola and upcoming star Will Keen respectively. James Garnon was a commanding comic presence. Many of the theatrical effects should not have worked on a warm, sunny afternoon, but they certainly did for me. The final scene as written by Marlowe depicts Dido, burning herself to death because Aeneas has left her, and her sister and ex-lover dying too. How do you stage that today. Dido has a handful of sparklers, (I don't know the US equivalent, but a handheld firework that throws out sparks for a minute or so). She lights one and as she delivers her final sorrowful speech she lights another and her companions light one each from hers. Finally they sit in silence as the sparklers die, and we know that they have now died too. There is a long moment of silence in the Globe, and then applause. A most moving moment for me.
Edward II
As I am reconstructing these reviews from notes made eighteen months earlier, I find that I remember very little of this production. Certainly Mark Rylance was sadly missing, and Liam Brennan as Edward, though strong, was not strong enough to hold the piece together.
The Taming of the Shrew
I do remember that this was good fun. 'In this odd piece, the girls wear the codpiece' was part of the modern verse prologue warning playgoers to switch off mobile phones etc. The Women's company probably chose this play because it is the most chauvinistic of the Bard's works, and they had as much fun as they could. Kathryn Hunter's Kate is suitably immune to male charms until she glimpses Janet McTeer's Petruchio when she visibly softens. Amanda Harris stood out from the rest of the players. Great entertainment.
Links
Internal
Original Globe

of how the original Globe came to be built
- a plan and what the Globe may have looked like
- what was discovered in 1989
- The Globe's great rival playhouse, its star Ned Alleyn and owner Philip Henslowe

New Globe

of how the new Shakespeare's Globe came to be built on London's Bankside in the 1990's.
Mike's Views, Reviews and Previews of Shakespeare's Globe seasons from 1997 to the latest

Globe Main

Recommended Books

My list of recommended books about the Globe, Rose and other playhouses of the time may be found in the section of the Well Furlong . If you so wish, you may go on to buy many of the volumes in our Book Shop directly from Amazon.com or Amazon.co.uk.
|||||

Updated 16th January 2005