Shakespeare's Globe
2013 Season
Season of Plenty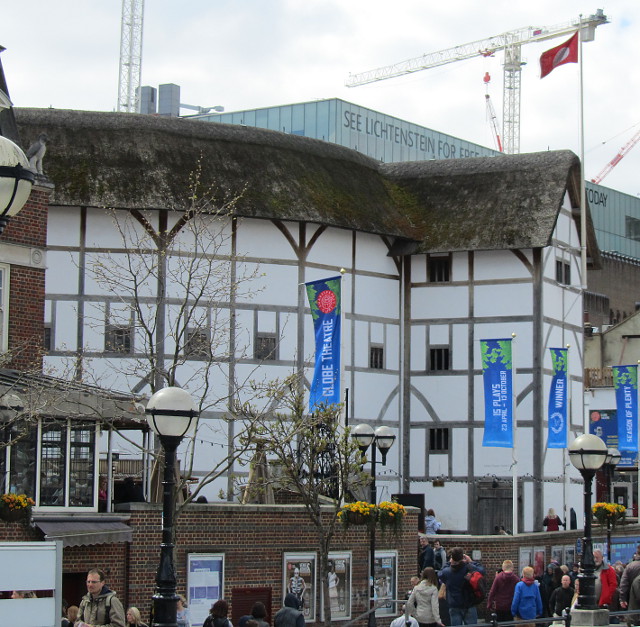 Introduction
The 2013 Shakespeare's Globe season consists of three mainstream Shakespeare productions and two new plays. Interspersed are several touring productions and the return of some of last year's Globe to Globe productions.
The season opened with Jeremy Herrin's production of "The Tempest" featuring Roger Allam as Prospero. Joining it in the repertoire in late May was "A Midsummer Night's Dream" directed by Globe Artistic Director Dominic Dromgoole. "Macbeth" opened in late June.
In July a new production called "Gabriel" by Samuel Adamson opened to excellent reviews. It is described as "an unprecedented musical and theatrical event" and features the trumpeter Alison Balsom playing Purcell and Handel with plays, instrumentals, songs and poems centred on the English Restoration. "Blue Stockings" is a new play by Jessica Swale about four female students at Cambridge University in 1896. It opens in late August.
The season's productions are:-
Productions
The Tempest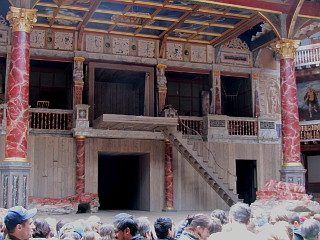 In 2010 Roger Allam deservedly won the Olivier Award for Best Actor for his Falstaff in Henry IV Parts 1 & 2 here at Shakespeare's Globe. This year he returns to play Prospero in a production by Jeremy Herrin.
The weather for my first visit of the year was what one might expect for an English April: sun, cold wind, heavy rain, more sun, more rain and a hail storm during the interval! Still, not as bad as those characters on stage were experiencing in the first scene of the play. They were carrying a model ship and being thrown all over the place. I'm not sure the metaphor really works. In the 2000 production here Ariel was carrying the model to cause the mayhem, which makes more sense to me. As you may be able to see in the image here rocks on stage are painted to match the Globe stage pillars, and oddly so is Caliban. This leads me to my first real disappointment with this production - James Garnon as Caliban. As I've said before I'm a big Jamie Garnon fan and I thought that this would be his perfect part. Sadly I did not feel he engaged with the groundlings, and played on only one note throughout - anger.
A lot of young people will be excited to see that Ariel is played by Colin Morgan star of the BBC TV series "Merlin". Unfortunately his was a rather wooden performance. However Ariel was assisted by two junior spirits who sing and move beautifully. The jangly, primitive music by Stephen Warbeck, was very good indeed. Jessie Buckley's Miranda is delightfully very excited by all the beautiful men she keeps meeting, especially young Ferdinand who is hardly an Adonis. Prospero's love for his daughter is obvious and more tender than you might expect from such a powerful character, and therefore more affecting. His Prospero is very natural, earthly, not ethereal - a man's magician. Very good.
So overall I enjoyed the production, without being blown away by this Tempest.
A Midsummer Night's Dream
The last time Gaynor and her brother Paul joined me at the Globe the weather was shall we say, changeable. This visit was cold and very wet followed by cold and dryish! We were under cover, but the weather didn't dampen our spirits or those of the large number of groundlings at the afternoon performance at the end of May. We all had a very good time.
Dominic Dromgoole's production opens with Theseus and Hippolyta and a group of their followers in a physical fight between the sexes. When Hippolyta reluctantly concedes defeat Theseus triumphantly announces their marriage. The Amazon lady's sullen angry demeanour suggests that she will not be a willing participant in the celebrations. Later in the scene she silently consoles the unhappy Hermia ordered to marry Demetrius against her will. Michelle Terry embodies the Amazon warrior queen as well as she does Titania the combative queen of the Fairies, and John Light is a macho Theseus/Oberon, though Oberon's full on the lips clinch with Puck throws some doubt on that opinion! Puck, played by Matthew Tennyson is other-worldly in the sense of fey rather than mischievously spritely. He wouldn't think of dashing anywhere. I learned to like him.
If the fairies are fey, the young human lovers are very worldly humans indeed. As they bolt on and off the stage they reappear each time more mud bespattered and in fewer clothes. Physicality is the name of the game again, taken just over the top when all four get tangled together by their own limbs, and just stay there for a touch too long. Very enjoyable performances nonetheless.
But what about the rude mechanicals? Well they are a triumph. The first time they appear they perform a wonderful clog dance choreographed by Siân Williams and executed perfectly. Pierce Quigley is a languid Bottom, who has trouble remembering his fellow players' names. "Peter ....? Peter Quince" is a running joke which doesn't become tiresome. The assumption of a fairly naturalistic ass's head apparently causes Bottom to become extemely sexually attractive if Titania's reaction is to be believed, and he takes to the lotus eating life that follows quite easily. Their production of "Pyramus and Thisbe" is very funny slapstick. The play is performed on a rickety stage which has stage pillars mimicking the Globe's, but needs constant repair with a hammer throughout the performance.
The play-within-a-play ends with a Bergomask and the whole cast, fairies and all join in to dance the now traditional jig. The final speeches by Oberon and Puck rounded off yet another very enjoyable afternoon at Shakespeare's Globe.
Macbeth
Eve Best returns to the Globe after her terrific performance in in 2011 to direct the Scottish Play this year. This is her first directorial job, and I had high hopes. I realised Samantha Spiro as the poisonous Lady Macbeth couldn't be better than my own Lady M at Queen Mary's Grammar School, Walsall in 1962 :-), and I believed Bette Bourne as the porter could only be hilarious.
Well I'm afraid I was disappointed overall. Miss Spiro was indeed better than my (sadly unrecorded) performance, despite shouting a lot. But I couldn't like this production even though I really wanted to.
The opening was promising. The whole cast marched on stage and started what looked like a rather agressive Tai Chi session of movement in silence. A bagpiper started to play and then one by one each actor joined in beating a drum until the Globe was filled with the sound of an army eager to fight. Spine tingling!
Joseph Millson was a good looking angry Macbeth. Strangely he and Billy Boyd's Banquo paused after the witches disappeared, and then broke into laughter lasting a minute or more. In fact there is more laughter in this production than any I've seen, though the audience aren't really included. Gawn Grainger is, shall we say, getting on, but playing Duncan he sounds like a ninety year old. And Bette Bourne was anything but a hilarious Porter except perhaps during some of his banter with Macduff. The witches were very good, and I quite like the idea of their feeding Macbeth drugs to let him see the images of Scotland's future kings. The martial, rhythmic music by Olly Fox was very effective throughout.
So, an interesting, but somehow lacking production - never boring, but unsatisfying.
Gabriel
In this new play Samuel Adamson portrays the London of the 1690's involving both "real and imagined characters: monarchs, prostitutes, wigmakers, composers, transvestites and watermen" Alison Balsom, one of the world's finest trumpeters brings this world to life with the music of Purcell and Handel.
Blue Stockings
Another new play, this being by Jessica Swale. It tells the stories of four young women going up to Cambridge University in 1896. It is an understatement to say that the university is male dominated and the women face prejudice and hostility at every stage.
John Dove directs.
Links

Internal

Original Globe

In 1598 Shakespeare's acting company carried the timbers from the dismantled Theatre across the Thames to Bankside. There they used the timbers as the frame of their new playhouse they called the Globe. In 1613 it burnt down but they again rebuilt it. For more details click on the link.

New Globe

The American actor Sam Wanamaker worked hard for decades to make the new Globe a reality, but he didn't live to see it built. Here's the story of how the new Shakespeare's Globe came to be built on London's Bankside in the 1990's

A list of links to details and my reviews of every season since 1997 at Shakespeare's Globe

Globe Main

Recommended Books

My list of recommended books about the Globe, the Rose and other playhouses of the time may be found in the section of the Well Furlong . If you so wish, you may go on to buy many of the volumes in our Book Shop directly from Amazon.com or Amazon.co.uk.

External

The official Shakespeare's Globe site