New Globe Playhouse
2001 Season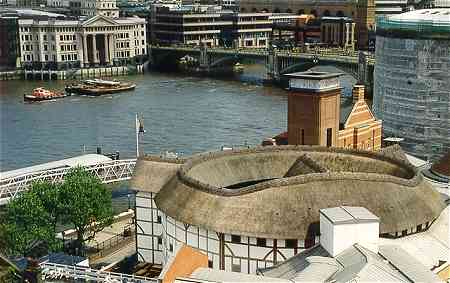 Introduction
The fifth season of plays at this splendid reconstruction of Shakespeare's own theatre, built on London's Bankside began on May 12th 2001.
This season's productions are:-
King Lear
Julian Glover plays the old king 'more sinned against than sinning', and RSC Associate Director Barry Kyle is Master of Play. It opened on 12th May.
Fully expecting to become a

groundling

, I managed to get a seat in a Gentlemen's Box for Press Night 22nd May. I think I might have become more involved with the production if I had been in the yard, but after half a day at work and seven hours walking around London, my aging legs would have complained!
The Globe stage looks very different this year. The brightly painted back (frons scenae) and stage columns have been covered in dirty-looking planks of different lengths. The costumes are not Jacobean either, but mixed non-modern. In the yard is a pole
Macbeth
The Scottish Play opened on 27th May, and featured Jasper Britton as the ambitious Thane.
Cymbeline
This rarely played piece opened on 30th June. The director of Shakespeare's Globe Mark Rylance appeared in this production.
Links
Internal
Original Globe

of how the original Globe came to be built
- a plan and what the Globe may have looked like
- what was discovered in 1989
- The Globe's great rival playhouse, its star Ned Alleyn and owner Philip Henslowe

New Globe

of how the new Shakespeare's Globe came to be built on London's Bankside in the 1990's.
Mike's Views, Reviews and Previews of Shakespeare's Globe seasons from 1997 to the latest

Globe Main

Recommended Books

My list of recommended books about the Globe, Rose and other playhouses of the time may be found in the section of the Well Furlong . If you so wish, you may go on to buy many of the volumes in our Book Shop directly from Amazon.com or Amazon.co.uk.
|||||

Updated June 2001