Shakespeare's
Globe
2017 Season

Summer of Love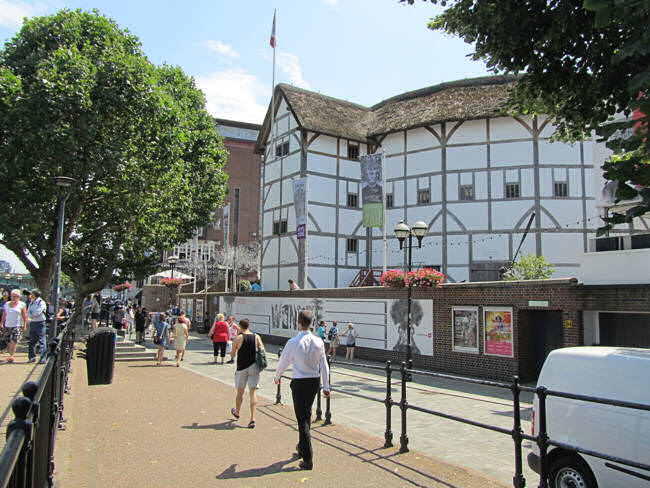 The 2017 Shakespeare's Globe season is called Summer of Love and marks the fiftieth anniversary of that period. It is the second and last Globe season under Artistic Director Emma Rice. She resigned because the Board of Shakespeare's Globe felt like me that she did not understand the unique feature of and reason for this theatre, namely to experience Shakespeare's plays in the context for which he wrote them.
The season consists of four mainstream Shakespeare productions opening with "Romeo and Juliet" directed by Daniel Kramer. "Twelfth Night" is directed by Emma Rice. Matthew Dunster directs "Much Ado About Nothing". Finally Nancy Meckler directs "King Lear"
The season also welcomes back Christopher Luscombe's production of "Nell Gwynn" written by Jessica Swales. This was first produced at the Globe in the 2015 season.
A new play called "Boudica" written by Tristan Bernays and directed by Eleanor Rhode, and a Kneehigh production called "Tristan & Yseult" complete the season.
Daniel Kramer Artistic Director of English National Opera directs the season opener. We are told that his take on the play explodes in a modern twist on the classic story. Yes. This is a musical entertainment with some reference to Shakespeare. At the ball (fancy dress of course) the company breaks into a chorus of The Village Peoples YMCA for no apparent reason.
Twelfth Night
Emma Rice herself directs this production. The preview information suggests that we can expect "cross-dressing, hijinks and bittersweet hilarity". I'd be worried if there were no cross-dressing!
Much Ado About Nothing
Matthew Dunster produced "Imogen" in 2016 here, so I'm not surprised to be told that this production "explodes ... in a fusion of Latin music, desert flowers and revolutionary politics".
Now I'm a bit more hopeful about this. The director is Nancy Meckler who has numerous credits including the RSC and National Theatre. My cause for hope is that there is no mention of a Sound Director in the preview pamphlet. This may mean that there may not be amplified music. Who knows, there might be natural lighting with no effects! This would be a first for an Emma Rice era production.
A page of internal and external links to the our Globe pages.